These Sennheiser Bluetooth headphones will help motivate you to complete various tasks with ease. They give you an engaging sound experience with their deep bass feature. Thanks to their long-lasting battery life and fast USB-C charging, you can enjoy using them for a long time without worrying about running out of charge.
Product Description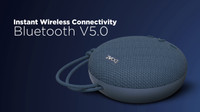 Bluetooth V5.0
This speaker features Bluetooth V5.0 to give you instant wireless connectivity. This way, you can play your phone playlists with this speaker.
52 mm Full Range Driver
This speaker makes use of a 52 mm full-range driver to help you enjoy an immersive audio experience so that you can start your day on the right note.